Full HD, LED-backlit LCD Panels with Super-narrow Bezel
Commercial-grade LED-backlit panels with high brightness and contrast. The panels also feature a super-narrow bezel that minimizes image content loss, a critical factor in multi-screen applications.
Tiling Compatibility with Frame Compensation
The LM55P2-W, LM55P1-W and LM46P1-W feature a frame compensation function that works in configurations of up to 25 panels (5 wide x 5 high). The ability to adjust panel bezel width enables extremely accurate image reproduction

Optional Front-access Wall Mount Bracket (Option: BR-LM1KK)
When used in combination with our original wall mount kit, LCD panels can be accessed from the front-side of the system, facilitating simple servicing of panels either from the front or rear (possible in both landscape and portrait orientations).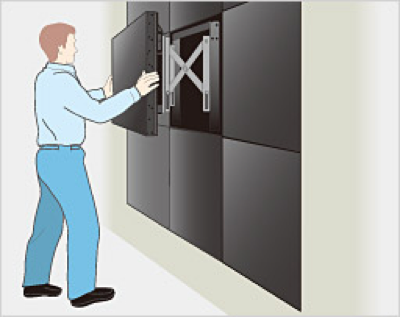 Colour Calibration for Multi-screen Applications (Option)
Utilising Mitsubishi Electric's original colour calibration software, the white point, brightness and gamma can be adjusted to ensure matching between adjacent panels.

Equipped with Intel® OPS Slot
The LM55P2-W, LM55P1-W and LM46P1-W are equipped with an Open Pluggable Specification (OPS) slot. Simply install the optional computer board* to expand the scope of applications. A variety of peripheral equipment can be connected quickly and easily.
* ARK-DS262GQ-U5A1E is product of Advantech, Co., Ltd.

Compatible with Crestron RoomView™ & AMX Device Discovery
The LM55P2-W, LM55P1-W and LM46P1-W are compatible with both Crestron RoomView™ and AMX Device Discovery, widely used network management software. Control commands can be sent from a computer through the LAN network to enable setting changes and remote diagnosis of multiple displays for efficient centralised management.


Enhanced Connectivity with Digital Terminals
A full range of digital input terminals are provided, including one HDMI, one DVI-D and one DisplayPort. In addition, the DVI-D output terminal makes, daisy chaining multiple monitors possible.


The following conditions apply for daisy chain connections:
1) Depending on cable length and signal source, up to four monitors can be connected when daisy chaining.
2) POWER SAVE should be set to OFF. Depending on computer compatibility, the POWER SAVE RGB setting may need to be set to OFF when using DisplayPort input.
Highly Reliable
Mitsubishi Electric's Super Narrow Bezel product line utilises highly reliable commercial grade LCD panels and electrical components. Designed for durability and long-term use, they're ideal for applications such as flight information displays and digital signage walls.
Digital Gradation Circuit
Our innovative digital gradation circuit provides uniform brightness distribution across the screen, resulting in the reproduction of sharp, vivid images from edge to edge on multi-screen configurations. This virtually eliminates the problem of decreased brightness at the edges of each screen.

Colour Space Control
In addition to the Colour Calibration (Option), LM55P2-W and LM55P1-W is equipped with an innovative digital colour space control circuit developed in-house for more precise colour and brightness adjustment as a LCD video wall. The circuit works to balance and blend colours, compensating for the colour and brightness discrepancies among panels. The ratios of each primary colour (Red/Green/Blue) and other colour mixtures are adjusted to provide consistent colour blending and superior uniformity on multi-screen configurations.
Other Features
PIP, POP and Side-by-side
Digital Zoom
SDI Connection (Option)
Programmable Scheduling
Screen-saver
Power-on Delay
LAN Control
Display Port
Built-in Speakers
Remote Control (Option)
Closed Caption