CANADA
Contact Us
Our objective is to respond to your request within one business day. Please note, our Customer Care group is available to answer your inquires Monday to Friday, 9:00 AM - 5:00 PM (Eastern Standard Time).
Please complete all required fields [*] so that we may properly assist you.
Comparisons
Compared to the High-speed Hand Dryer, other hand-drying methods in public facilities have distinct drawbacks.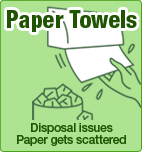 Disadvantages
Wastes resources
Fills up waste receptacle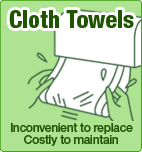 ADVANTAGES
Can be used immediately
Can be used as-is
DISADVANTAGES
Unsanitary except for first use
Can be difficult to manipulate
Often not replaced properly after us