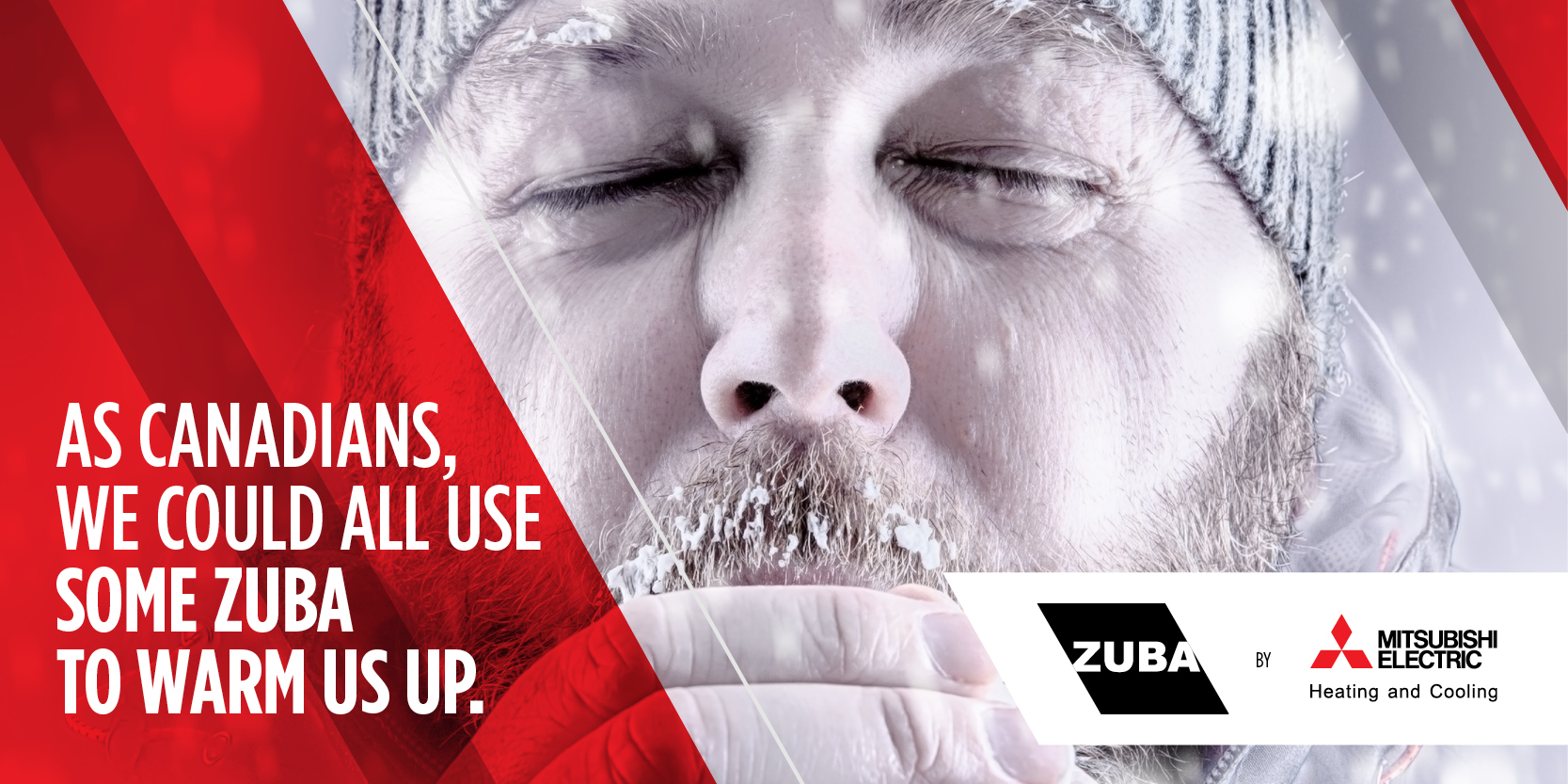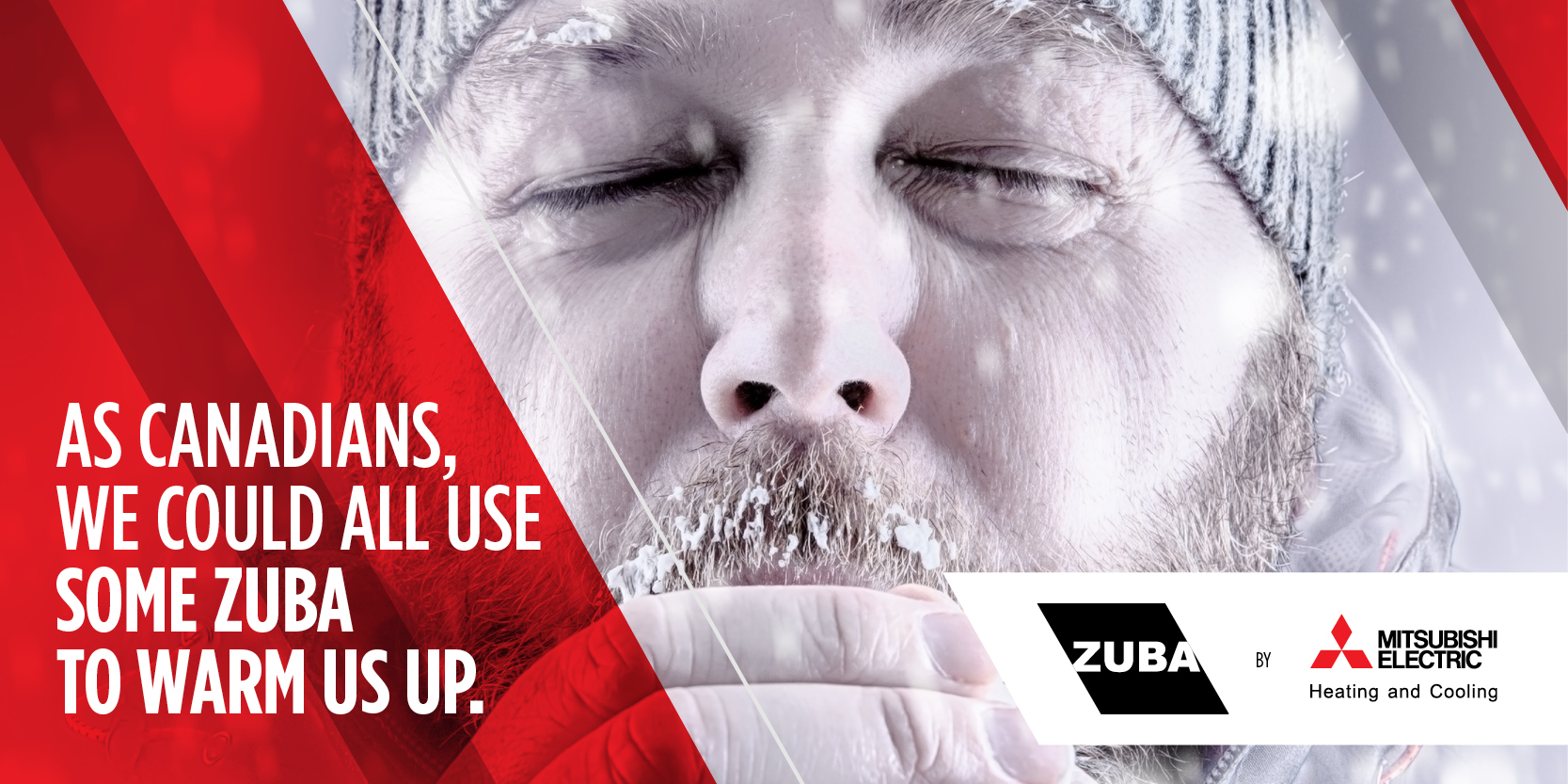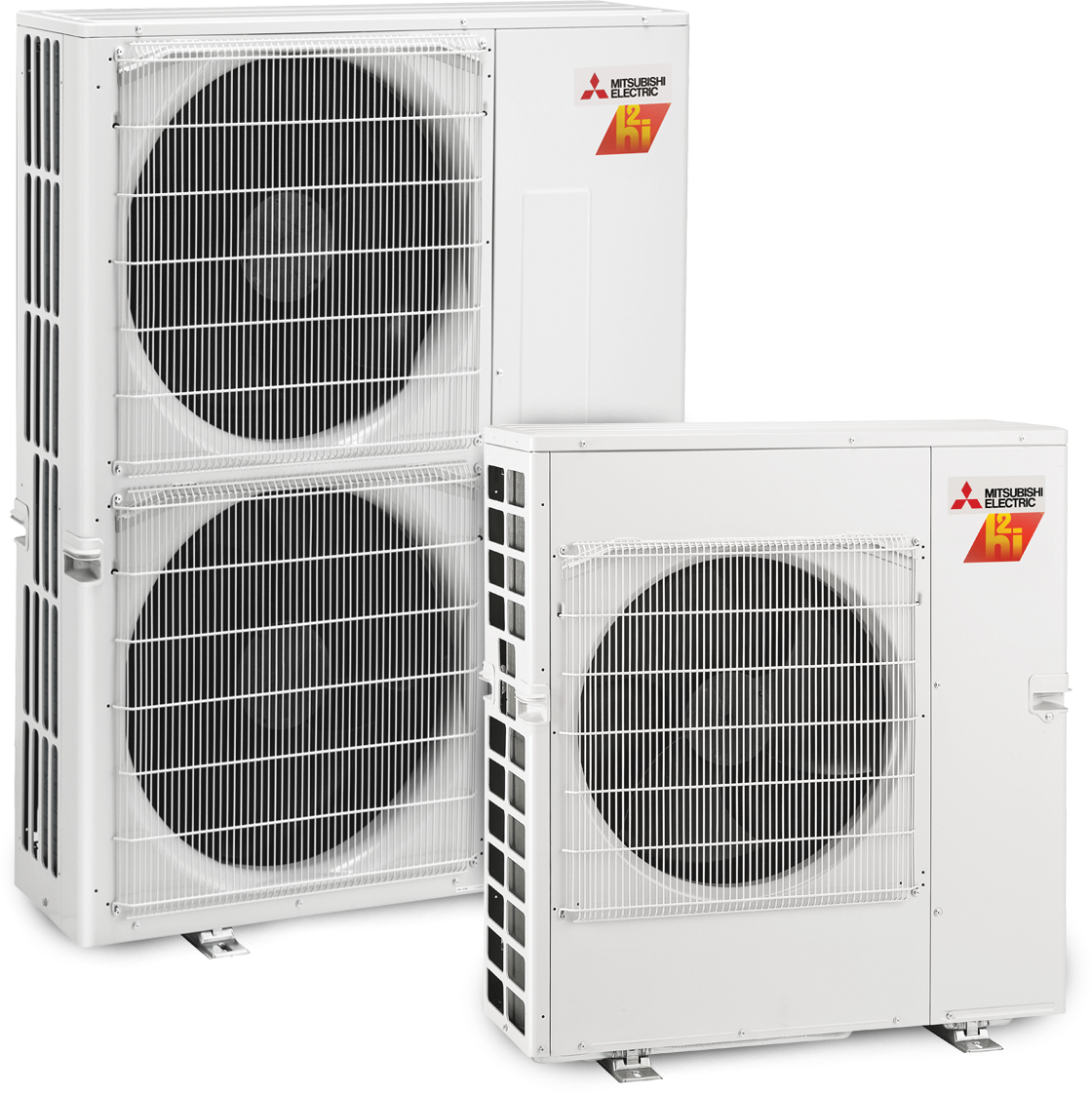 What exactly is Zuba?
It's not a fitness dance craze, or a hot new streaming service, Zuba is a family of Cold Climate Heat Pumps featuring Hyper-Heat Technology, and was developed as a home heating and cooling system specifically for Canada. By delivering exceptional heating performance in the winter and effortless cooling in the summer, Zuba delivers year-round comfort with or without a supplemental indoor heating device. Additionally, Zuba's unique hot-start technology provides warmth from the moment it's turned on, helping to reduce drafts.
---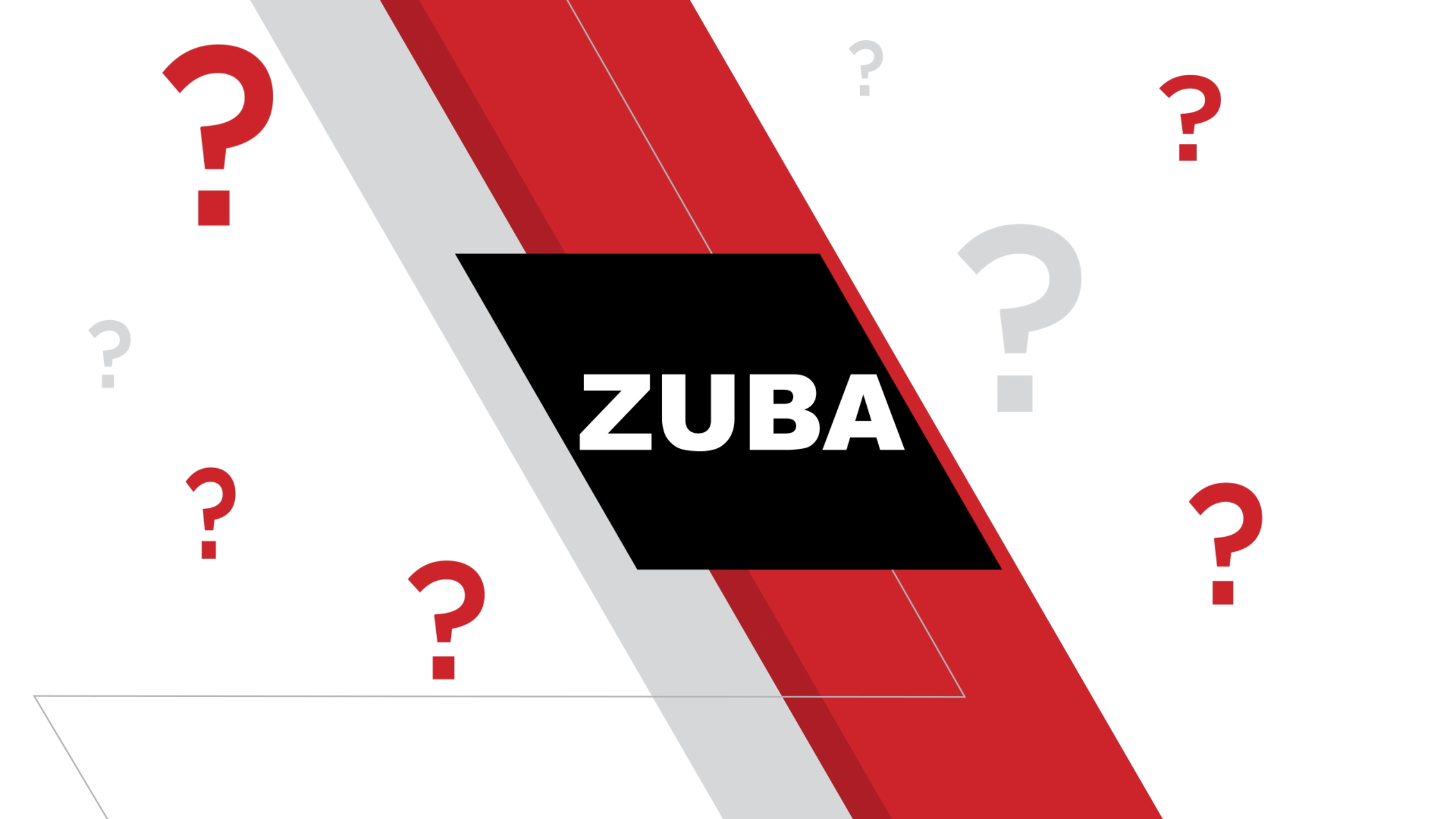 What can Zuba mean to you?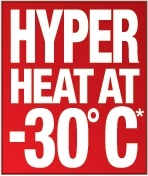 Now you can experience the year-round comfort, savings, quality and reliability you deserve. The secret behind Zuba's superior heating capabilities is our efficient and patented Cold Climate Hyper-Heat (H2iTM) technology. Designed for the Canadian market, Zuba operates at 100% heating capacity at -15°C and continues to deliver exceptional heating performance when the outdoor temperature drops as low as -30°C* and beyond. The unique defrost mechanism provides an extended period of continuous heating between defrost cycles and minimizes the defrost time required.
*All versions of models MXZ-4C36NAHZ, MXZ-5C42NAHZ, MXZ-8C48NAHZ, PUZ-HA24NHA, PUZ-HA30/36/42NKA, SUZ-KA24/30/36NAHZ. Includes tolerance. Units can operate down to -30°C and beyond, depending on conditions.
---
An innovative step forward
For even more heating power, our most advanced model, Zuba Single Plus, features our exclusive Hyper-Heat Plus (H2i+™) technology, and is backed by our best 12-year warranty** to date. Engineered to provide 100% heating performance in -20˚C, H2i+™ gives Zuba the power to continue operating efficiently in temperatures as low as -25°C† and beyond. Ensuring that even on the coldest days, you still experience elevated indoor comfort.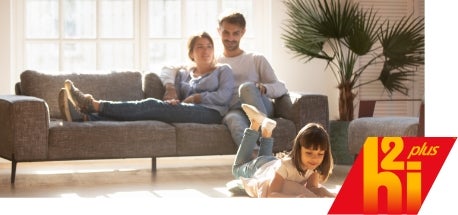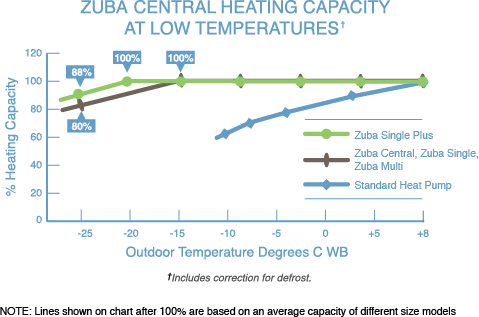 ** Valid with the purchase of a FS system, comprising approved FS indoor and FS outdoor units, installed and registered by a MEQ certified Installer. Restrictions apply. See warranty terms and conditions for complete details.
†Includes tolerance. Typical units can operate in heating mode down to -27°C depending on condition.
---
1-WAY CEILING-CASSETTE
Bring comfort and sophistication into your home like never before with Mitsubishi Electric's MLZ-Series 1-Way Ceiling-Cassette. Its low profile allows it to fit seamlessly into any room enhancing its environment while providing comfort.
---
Available with


4-WAY CEILING-CASSETTE
A discreet design with four air outlets and multiple airflow patterns, the SLZ offers greater air coverage and distribution while mounting flush to the ceiling. The SLZ comes standard with the 3D i-See Sensor technology to distribute hot or cold air as required for optimal room comfort.
---
Available with


WALL-MOUNTED
The MSZ wall mounted units feature compact dimensions that make them the ideal choice for offices, stores & residential use. Use multiple units in your space to combat those pesky hot or cold spots. They're also among the quietest wall units in the industry, silently delivering a high level of comfort and energy efficiency all year round.
---
Available with



FLOOR-MOUNTED
The MFZ floor standing units deliver stylish yet efficient heating and cooling. The sophisticated design features clean, sharp lines. It can be installed with a base or recessed into a wall for dramatically reduced depth (8 -15/32mm). Compact and unobtrusive, it's the perfect heating and cooling solution for new and renovated spaces.
---
Available with


CEILING-CONCEALED
A discrete model to provide home comfort, the SEZ unit can be built right into the ceiling with short-run ducts and the PEAD units can be built into new or existing ductwork to deliver comfort throughout the room.
SEZ is for Zuba-Multi and Zuba-Single only.
---
Available with



MULTI-POSITION AIR HANDLING UNIT
The PVA and SVZ air handler is ideal for efficient heating and cooling in new and or pre-existing ducted applications such as bedrooms and smaller homes. The compact design blends seamlessly into tight spaces like an existing furnace room or closet, so you can achieve the comfort you need without compromising space.
---
Available with


---