CANADA
Contact Us
Our objective is to respond to your request within one business day. Please note, our Customer Care group is available to answer your inquires Monday to Friday, 9:00 AM - 5:00 PM (Eastern Standard Time).
Please complete all required fields [*] so that we may properly assist you.
Home owners > FREQUENTLY ASKED QUESTIONS


FREQUENTLY ASKED QUESTIONS
Below are some questions regarding our products and technologies that are regularly asked. If you can't find your answer below, it might be a good idea to connect with one of our dealers.
HOW CAN I FIND THE SYSTEM THAT'S RIGHT FOR ME?
There are many heating and air conditioning systems to choose from today. Your Mitsubishi Electric® brand dealer can draw on a vast degree of heating and air conditioning knowledge and experience to help you decide on the system that best fits your specific needs. The size and age of your home, as well as the number of rooms, climate, local, regional utility costs, and utility incentive/rebate programs are all factors that will affect the functionality and, therefore, selection of your system.
Contact a Mitsubishi Electric® brand dealer to help determine initial cost, warranty protection, service options, maintenance options, operating cost and proper installation. You can also get a copy of the product warranty from any dealer.
WHAT IS "DEFROST MODE"?
All heat pumps will perform a defrost cycle eventually when operating in cold winter conditions. The defrost mode removes ice buildup from the outdoor unit. In defrost mode the heat pump stops heating for short periods. Some heat pump brands spend longer in defrost than others. This is part of what makes Mitsubishi Electric® Heat Pumps so efficient, more heating and less defrost cycles. With a Mitsubishi Electric® heat pump you get more heat and less defrost cycles, which means less overall power usage and higher, real energy efficiency.
HOW OFTEN SHOULD I CLEAN MY HEAT PUMP?
Your heat pump consists of an indoor and outdoor unit. Preventive service and maintenance will help extend the life of unit. Cleaning your heat pump regularly ensures optimum operation efficiency and reduces unnecessary power consumption. We recommend cleaning your indoor unit filter as often as possible depending on usage, in order to utilize its full performance.
DOES A HEAT PUMP PREVENT CONDENSATION?
While a heat pump's primary purpose is to heat or cool your room, our heat pumps do offer limited dehumidification using "DRY" mode. It is important to note that when the heat pump is operating in Dry Mode, the unit is not heating so it is recommended to only use the Dry mode for shorter periods of time and when heating is not being required.
HOW DO YOU CHANGE FROM COOLING MODE TO HEATING MODE OR HEATING TO COOLING?
Your quick guide to remote control symbols: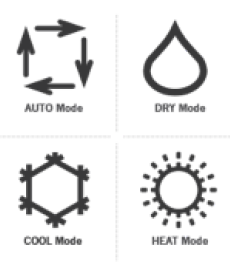 Press MODE to select operation mode. Each press changes mode in the following order:

Remote control symbols look different from these? If the MODE symbols look different on your remote from those above, please consult the user manual for your specific air conditioning model.