| | |
| --- | --- |
| Designed and made in Japan to meet the highest standards demanded by command and control applications. | |
Outstanding performance, intelligent patented features and low power consumption make the VS-15NP160 an absolutely unique solution in the professional control room market.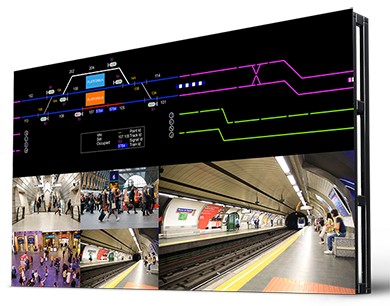 The stunning performance of Mitsubishi's direct view LED makes it the perfect choice for large scale control rooms or areas where high ambient light is a challenge. Specially designed 3-in-1 SMD (RGB) LED packages deliver up to 800 cd/m² brightness with excellent contrast and 100,000 hour lifespan. A pixel pitch of 1.5mm ensures the crystal-clear display of fine detail.
Over two years in development, the new screen has several patented features which make it uniquely suited to control room roles where long lifespan and total reliability are critical requirements. A patented anti-burn feature allows static graphics to be displayed for long periods of time without adversely affecting LED performance or lifespan. Overall, the display is rated for 100,000 hours of continuous operation, with its antiburn feature ensuring that LED luminance and chromaticity remains uniform over the life time of the screen. Dual-loop signal inputs and redundant power supplies ensure the display will continue to function in the unlikely event of an LED unit power failure. Dynamic power consumption features actively monitor image luminance and adjust power output accordingly to optimize power consumption and reduce operator eye-fatigue - a critical factor in control room applications not addressed by digital signage displays. Mitsubishi has incorporated the Natural Color Matrix system found in its DLP products into the new LED screen, plus a specially developed 2-dimensional noise reduction system to reduce visible noise in compressed content such as MPEG video.